COMPLETED PROJECTS
1800s English Longcase

This late 1800s English Longcase clock was purchased by a customer from Waddington's auction house in Cobourg in a sad state of dis-repair, and delivered to Cobourg Clocks for restoration. The case was in pieces, the movement was broken and it was missing parts. However, the dial, glass and several other parts were in excellent condition, and overall had a great potential for restoration. The case was restored including repair to several cracks and scratches; the dial was cleaned and polished; the movement was repaired and made fully operational. Today this beautiful clock stands proud in a century home in Lakeport, Ontario, completely restored to its original operating splendor.
U.C.E.G.

In the fall of 2013, a gentleman called and stated he had a family clock in need of repair. A large shipping box was delivered to Cobourg Clocks and written on the box was a note stating the contents had been packed in 1970. The container was opened and the contents laid out on our workbench. This clock was in multiple pieces, with broken parts, missing trim and damaged. Over the next three months this clock was completely restored to original condition.
This is a Uhrenfabrik Concordia Eingetragene Genossenschaft or U.C.E.G. wall regulator clock from Freiburg in Schlesien, a former German town, now part of Poland. This company was in the clock manufacturing business from 1881 to 1899 and was then purchased by the Gustav Becker Clock Works Co. in 1899. Known as a Concordia clock, it is extremely rare as production was limited. The clock measures over 54″ high by 22″ wide.
Delivered to the family on March 16, 2014, it is a 4th generation clock and the entire remaining family were on hand for it's presentation. This clock was purchased new in Germany in 1881 by our customers Great Grandfather, shipped to England where it remained until the 1950s when it was shipped to Canada. It was eventually packed up in 1970 and showed up at Cobourg Clocks for restoration in 2013. After a long journey, this grand old lady was restored to its present condition giving this family many more years of enjoyment.
Appraised value on completion……..$8500.
c.1800s Scottish Longcase

This early c.1800s Scottish Longcase clock has been owned by the same family for 6 generations in Peterborough Ont. The case, inlaid with ivory, was completely restored. The dial was shipped to England where it was professionally restored to original condition. The movement was cleaned, oiled and the weight spools were re-strung. A complete restoration produced this wonderful example of a 230 year old family heirloom. Valued at $12,000.
Sessions Banjo wall clock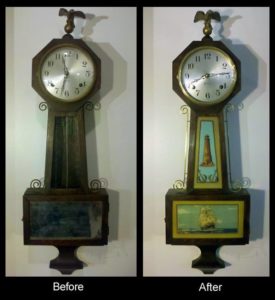 This Sessions Banjo wall clock, a third generation family owned heirloom was delivered for a complete restoration. The case was completely disassembled and refinished, the dial and bezel were restored, and the movement, including broken springs, was rebuilt. The door and face glass was restored to original.
Seth Thomas, model " Paxo", c.1902 adamantine 8 day shelf clock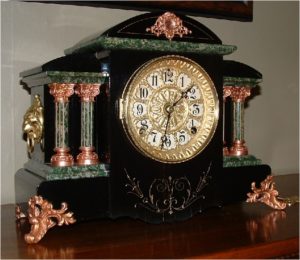 This Seth Thomas, model " Paxo", c.1902 adamantine 8 day shelf clock was recently restored by completely dis-assembling the case, cleaning and polishing each piece back to its original gloss finish. The dial was restored along with the movement being completely overhauled. A beautiful example of a Seth Thomas shelf clock. An original Seth Thomas clock catalogue from 1904 lists the Paxo model for sale at $11.00. Current value restored is $750.
1873 French Grandfather Clock

This beautiful 1873 French Grandfather Clock was recently completed by Cobourg Clocks. The clock stands an impressive 91″ high. It features a Petite Sonnerie Ting Tang striking movement with the moon dial, date and French day functions. All aspects of this clock were completely restored including the movement, dial, weights, pendulum, new beveled glass, and the case which was missing some trim and the original finish. This clock now stands proud in the SS#18 Public School, Centreton Ontario which opened in 1857 and which has been completely renovated and restored and is now used as a private residence.